Balkan Adventure
Some clothes, our passports, a few gifts and of course some protection gear to ride enduro - that's roughly what our packing list looked like when we flew to Croatia and Bosnia-Herzegovina over the holidays to ride in the Bosnian mountains with Choka, Andrija, and Marko, as well as spending some relaxing days at the beach in Croatia afterwards. We were driven to the airport, easily passed the check-in and security check and arrived in Zadar after a short and pleasant flight. Upon arrival, we picked up the rental car we had booked before without any problems, which surprisingly turned out to be a brand new car. With our new vehicle we drove to the Apartments Alfirev, in which we had regularly stayed before. On our way there, we informed our landlord about our estimated arrival time and were greeted not only with the keys but also with an invitation to some traditional snacks with wine - bread with homemade bacon, cheese, salami, and strawberries from their garden. We sat there, enjoyed the tasty food and talked about this and that - until it suddenly was 2 o'clock in the morning and we decided to go to bed, as we wanted to head to Bosnia-Herzegovina at 8.
So we did, and after a drive enhanced by impressing landscapes, we met Choka, Andrija, and Marko at around 11 o'clock, with whom we wanted to ride enduro. Together, we drove to the motorcycle rental, as naturally we couldn't bring ours by plane. When we arrived, we were greeted just as warmly as previously in Croatia, and while we were waiting for the boys to change their clothes and the cameras to be mounted onto the helmets, we were offered food and drinks, making us feel very welcome. Our next stop was at an off road rally that we wanted to see, therefore we pathed ways - they boys rode through the mountains while us girls went to the rally by car.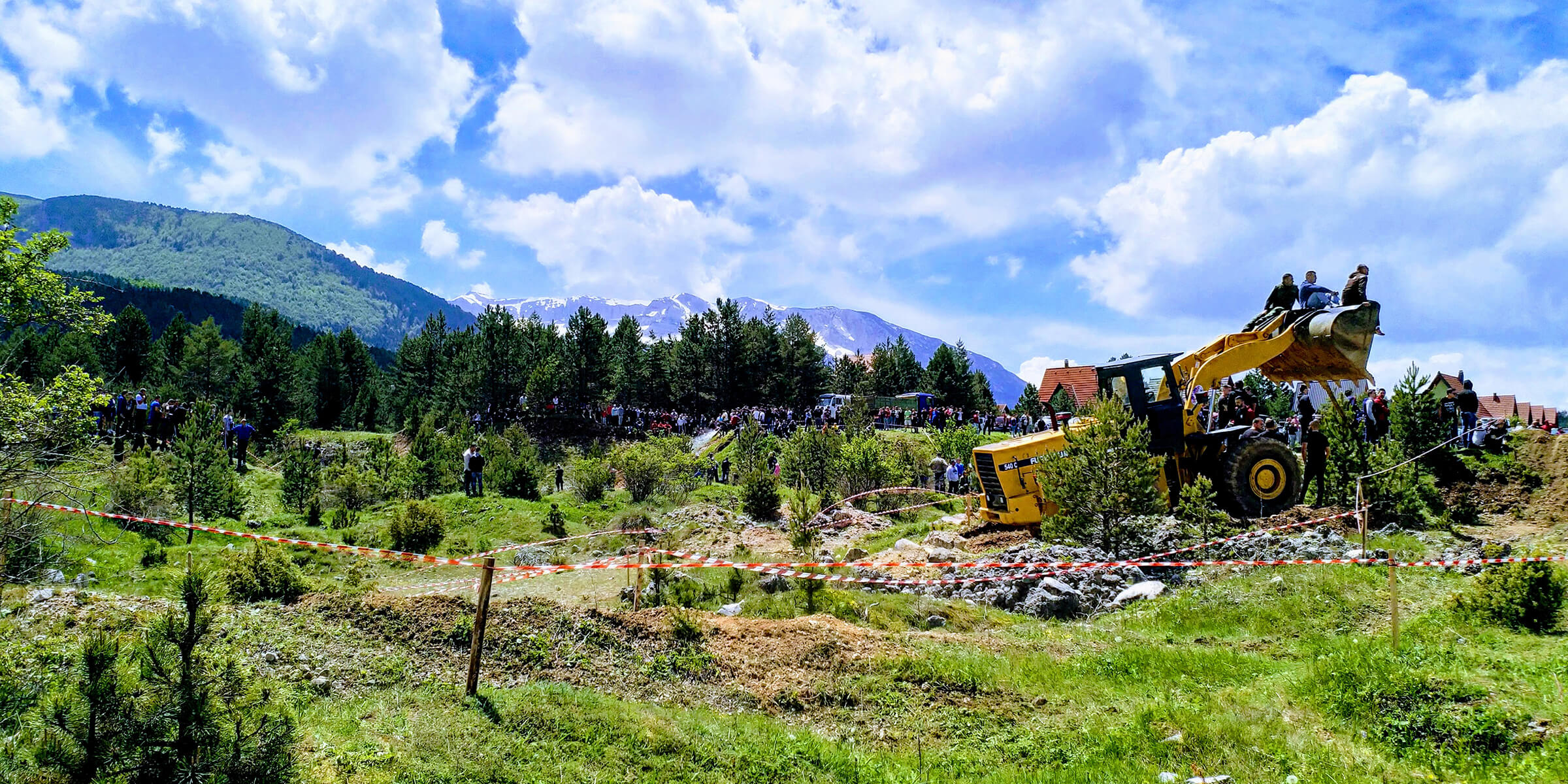 Upon arrival at the rally, a lot was already going on, as the race had already started and the first competitors were already on the track. You can find a video of the rally on our Instagram Account or our Facebook Page. While we were waiting for the boys, who wanted to take the "short way" through the mountains, we were getting comfortable at the race track, enjoyed the sun, the beautiful mountains, and of course the spectacle itself. As the boys, whose "short way" rather turned out to be a "fun way", taking them about an hour more than planned, arrived, we drank a beer together to cool down. Doing so, we quickly began chatting with other visitors and enjoyed the rally together. As we already did a lot until then and the boys were a bit exhausted, we decided to drive to a restaurant nearby. We also split for this way, which was not a probelm as just like for the rally, we found the restaurant instantly.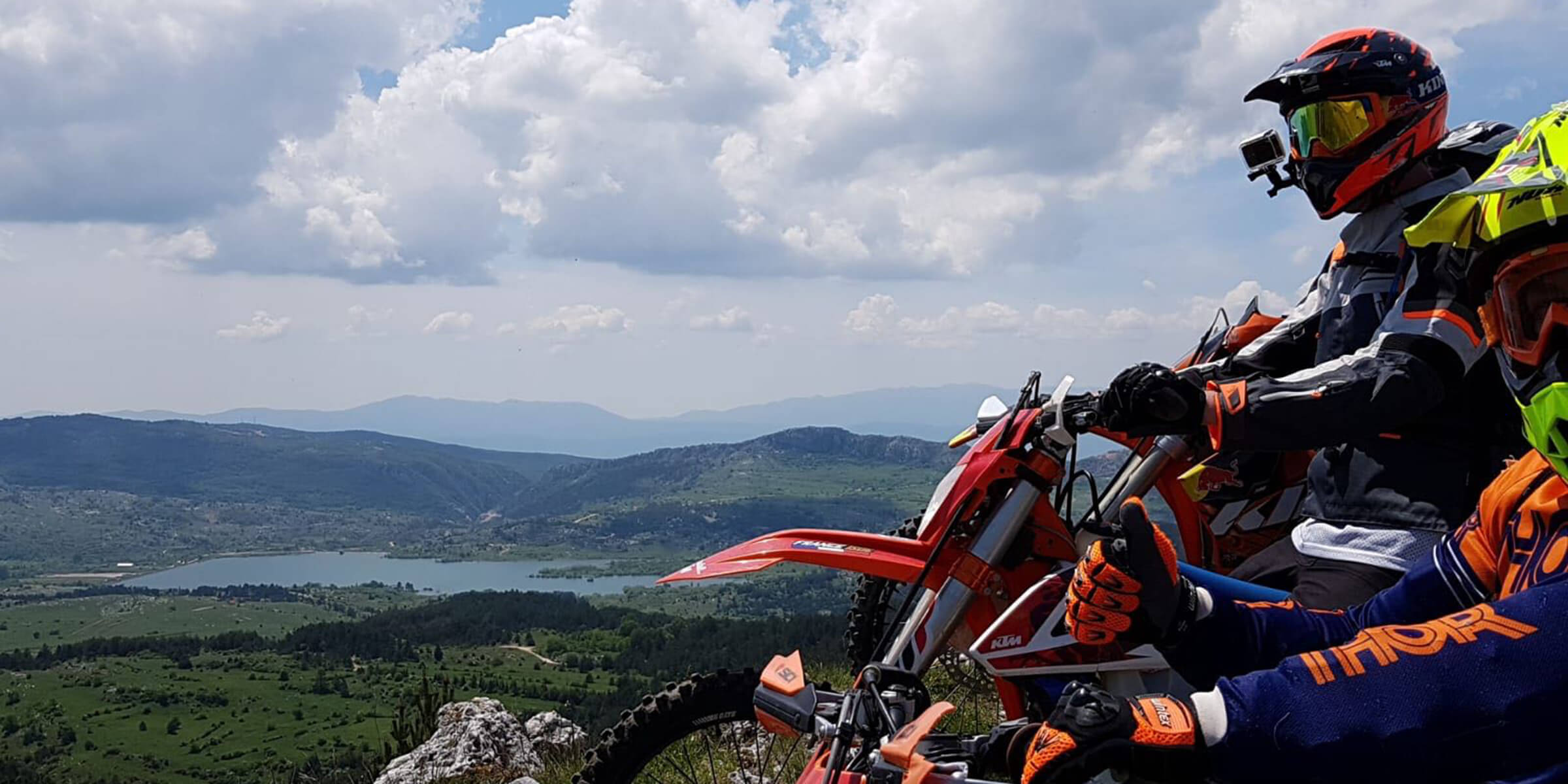 At the restaurant, we ordered a large, traditional peka with calf meat and potatoes, together with two large salads. The food was increadibly tasty and the innkeeper was visibly happy to have German guests. Excitedly, she told us in fluent German that she likes how sympathetic us Germans are and that she also had plans to go to Hannover in the following week. After the delicious and still very inexpensive lunch (55€ for 6 people incl. drinks), we said goodbye and drove back to the motorbike rental. Here, we were greeted - how else could it be in a hospitable country like Bosnia-Herzegovina - with coffee and cake, and not only one cake but three different cakes, which were all very tasty. We were chatting for a while and at around 9 o'clock in the evening, we drove back to the beautiful city of Vodice in Croatia after a great day in Bosnia-Herzegovina. On our way back, we reflected on the day - Olaf was very impressed by the 2018 KTM 350 EXC-F Six Days enduro that was given to him, the challenging, interesting, and varying trails, the breathtaking views after climbing the hill, and especially the knowledge and talent of our guides that were able to navigate through the mountains without any obvious points of orientation. Sabine and me enjoyed how warm we were welcomed, the tasty food, and the beautiful landscapes, which really astonished me. Of course I knew Bosnia-Herzegovina before, and I also knew what beautiful places there were - however it is always an overwhelming experience to experience it live, as pictures are always only pictures.
When we arrived back in Vodice, we went to bed very tiredly but also very happily, and kept the other days rather relaxing with tasty food, good wine, our go-to beach bar at the Mediterranean Sea, and most importantly good friends that enriched each day. Both countries are always worth a visit, as they have a lot to offer and the inhabitants are always concerned about the tourists well-being - I cannot wait to be there again.