Travel information about Bosnia & Herzegovina
Before you're heading out on your adventure with us, we would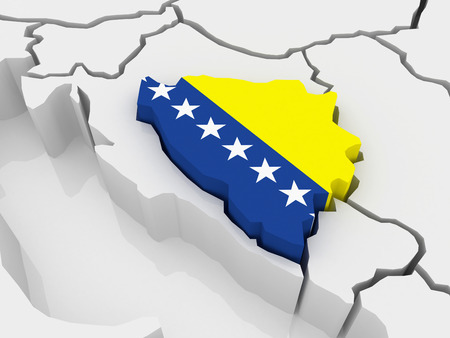 like to provide you with some basic knowledge on the country you're travelling to. Bosnia-Herzegovina's geographical specialty are their green, hilly landscapes. Further attractions include the cosmopolitan capital Sarajevo with its Turkish tradition and the restored Old Bridge crossing the Neretva in Mostar, which unites the difficult past of the country with its positive outlook into the future. As Bosnia-Herzegovina is strongly influenced by its ethnical and religious diversity, visitors should do their best to respect the norms and habits of the different groups. Generally, the inhabitants are really hospitable, and it is common to greet each other by handshake. Once you get to know the person better, this handshake is replaced by two kisses on the cheeks.
In public buildings as well as gastronomic places, smoking is generally not permitted, however some places feature smoking areas. A tip of 5 – 10% is expected to be given in restaurants, and it is also common to give porters, taxi drivers and room maids a tip as well. While it is possible to drink tap water in Bosnia-Herzegovina, it is generally recommended to drink bottled water. The inhabitants are speaking 3 languages, Bosnian, Croatian, and Serbian. While doing so, Croatians and Bosnians use the Latin alphabet, whereas Serbian people use the Cyrillic alphabet. The country's currency is the convertible mark (KM) with an exchange rate of approx. 1 € = 1,97 KM.
The climate is continental, which means that there are hot summers (especially July / August) and cold winters (especially December – March). The winters at the coast are milder yet wetter than those further into the country. The country borders Serbia, Montenegro and Croatia. With 28 km of Adriatic coast, Bosnia-Herzegovina has even got a direct connection to the sea. Additionally, it is important to mention that Bosnia-Herzegovina is divided into two areas, the Bosnian-Croatian Federation and the Serbian Republic.
You can best reach Bosnia-Herzegovina from Germany by plane or car. The most important airports are Sarajevo (SJJ), Mostar (OMO) and Banja Luka (BNX). If you are planning to come by car, you have to take your green insurance card with you. It has to be presented when crossing the border and without it, it is not possible to enter the country. Alternatively, you can come to Bosnia-Herzegovina by long-distance coach or train. Please also note that you will need a valid piece of identification (a driver's license is not sufficient for this purpose). These could for example be your identity card or passport, you can find more detailed information regarding this topic on the website of the federal foreign office. There, you can also find information on whether or not you are obliged to apply for a visa. Additionally, it is important that you have got 150 KM (around 75 €) per person per day when entering the country. Tourist are also obliged to register themselves within 12 hours after their arrival. Normally, your landlord will do this for you, however you should always inform yourself with regards to the specific accommodation you have booked.
Now, that you have got a general overview of what to expect on your trip to Bosnia-Herzegovina, you can take a look at the website of the government of the UK on travel advice for Bosnia and Herzegovina to get even more information. We at Viaduro care for your safety, and therefore we would like to provide you with some information that enables you to travel safely. However, we can always only assume which information is important to the average traveler, so you might as well look for more information regarding your specific needs elsewhere. Although we are regularly updating this information, it might also happen that not everything is up to date as frequent changes can always take place, thus, all information provided is not legally binding.
One last advice, please always make sure to listen to our guides! We can guarantee you that the only thing they want you to do - except having fun of course - is to be safe, and they are the ones that know this country best and that have the best overview of the ongoing situation. With that being said, you are now ready to read through the actual travel information. Enjoy your trip!
- Last update: 21.10.17 -