Central Cuba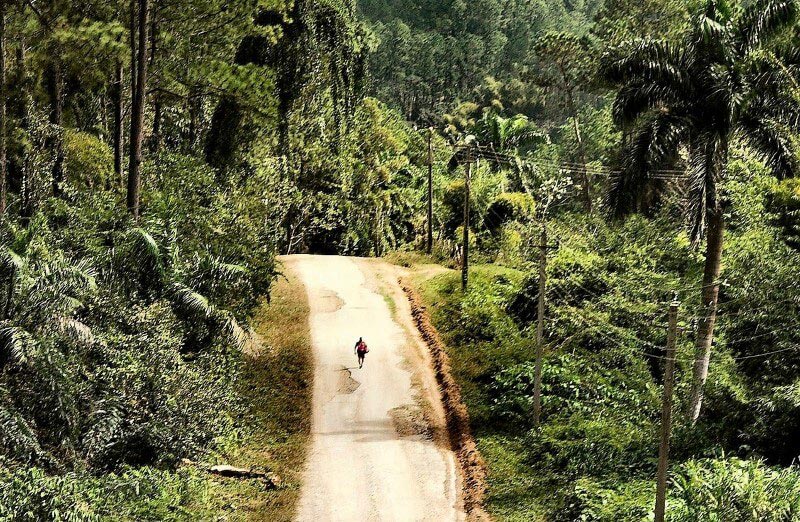 Duration: 9 Days
Scale: 1 - 10 people
From: Havana
Tour size: 10
Languages: English (others upon request)
On this tour, you will see beautiful sceneries, stay at the beaches of the atlantic and caribbean shores, experience the city nightlife and ride some low mountain range passages as well.
9-Days Enduro Tour through Central Cuba
Day 1: Arrival
Get a first impression of Cuba and some information from your tour guide while enjoying your welcome drink in your hotel. Depending on the time of arrival, we have the chance to discover night life in the old town of Havana and to enjoy dinner (optional) in one of the most beautiful squares of the historical old city center. Live music in small bars and cafés makes us move our feet to the vivid music of Cuba. We can go for a stroll through animated streets and alleys and can stop for a rest in one of the restaurants and cafés under the open sky.
Day 2 (50 km): Test drive in Havana
After breakfast we discover the historical old town of Havana and its culinary highlights. We get back to our accommodation afterwards, change our clothes and take our motorbikes at Parque Central. In order to get familiar with your bike, we do a short and relaxed tour throughout the city and get back to the hotel for dinner (optional).
Day 3 (220 km): Tour to Zapata Peninsula / Bay of Pigs
We leave early today in order to avoid working up a sweat in city traffic. Our first longer stage leads us over narrow roads to Matanzas and finally to Jagüey Grande. We spend the night in "Bohíos de Don Pedro" resort or in the simple but attractive resort of Guamá. The next morning we pay a visit to the crocodile farm of Guamá.
Day 4 (100 km): Tour to La Boca / Playa Ancón
We take the road along the Bay of Pigs up to Girón where invading troops, trained by the American CIA, landed in April 1961. They attempted to overthrow the Cuban revolutionary government which was established two years earlier. Then president John F. Kennedy half-heartedly supported the unloved project which he had taken over from his predecessor. The invasion failed and nearly every invader was put into Cuban prisons. If you like, you can get more information about the historical event in the little museum. We drive along the coast on poorly maintained roads up to Cienfuegos and have a little break. Afterwards we follow Carretera del Sur up to Trinidad where we will stay overnight in Las Cuevas hotel or in a smart Casa Particular. After dinner in a private restaurant (optional), we enjoy vibrant nightlife in the city streets.
Day 5 (100 km): Tour to Valley of the Sugar Mills
After a short tour through the historical city center of the former sugar metropolis, we continue our one-day excursion to the Valley of the Sugar Mills, embedded in a wonderful landscape northeast of Trinidad. From the observation tower "Torre de Iznaga", formerly used to monitor the slaves working in the sugarcane fields, you can let your gaze wonder over the huge sugarcane fields to "Topes de Collantes", the central region of the Escambray Mountains. After our return we spend another night in Trinidad or in a beach hotel on Ancón Peninsula.
Day 6 (200 km): Via the Topes de Collantes to Cayo Santa Maria
Today we traverse the central region of the Escambray Mountains: Topes de Collantes. Driving past the Hanabanilla Dam, we finally reach Santa Clara after two hours drive. The conquest of the city on December 29th, 1958, by Revolutionary Troops under the command of Ernesto Che Guevara, finally led to the victory over the army of the Cuban dictator and president Fulgencio Batista. Three days later, he fled into exile in the US, the Public Treasury of Cuba with him. After a short stop in the city we make our way through Remedios up to Cayo Santa María where we spend the night in an attractive all-inclusive hotel.
Day 7 (140 km): Varadero
Our motorbike trip continues; shortly after leaving "Terraplens", the connection between the archipelago of Cayo Santa María and the main island, we take a short break in Remedios in order to marvel at the unique colonial city center. Along the coast and using the Carretera del Norte, we reach Varadero after a few hours drive. We stay overnight in Varadero which is the best-known bathing spot of Cuba.
Day 8 (160 km): Back to Havana
We seize the opportunity to explore the peninsula in the morning. After lunch in our hotel, we check out and arrive in Havana after a few hours drive on Carretera del Norte. We return the motorbikes and check in in our next hotel, located in the old city of Havana. We review the highlights of our tour during dinner together.
Day 9: Time to say goodbye or time to enjoy some more days in Cuba
This day is at leisure. If you want to stay some more days in Cuba, we would be pleased to help you with an additional booking.

Please note: We usually book the hotels mentioned in our travel information. Unfortunately, it is possible that we have to alter the reservation at short notice because of the current capacity situation. This could occasionally lead to changes in the itinerary.
When choosing accommodation, you can choose to stay mostly in hotels or mostly in Casas Particulares. Due to capacity issues, it is not possible to stay only in hotels or only in Casas.
Price per rider in Euro, a pillion has to pay 700 Euro less
Date
Double Room Casa
Single Room Casa
Double Room Hotel
Single Room Hotel
11.06. - 19.06.2018
1990€
2190€
2790€
2990€
09.07. - 17.07.2018
1990€
2190€
2790€
2990€
06.08. - 14.08.2018
1990€
2190€
2790€
2990€
03.09. - 11.09.2018
1990€
2190€
2790€
2990€
01.10. - 09.10.2018
2190€
2390€
2990€
3190€
30.10. - 07.11.2018
2190€
2390€
2990€
3190€
28.11. - 06.12.2018
2390€
2590€
3190€
3390€
26.12. - 03.01.2019
2390€
2590€
3190€
3390€
23.01. - 31.01.2019
2390€
2590€
3190€
3390€
20.02. - 28.02.2019
2390€
2590€
3190€
3390€
20.03. - 28.03.2019
2390€
2590€
3190€
3390€
17.04. - 25.04.2019
2390€
2590€
3190€
3390€
15.05. - 23.05.2019
1990€
2190€
2790€
2990€
12.06. - 20.06.2019
1990€
2190€
2790€
2990€
10.07. - 18.07.2019
1990€
2190€
2790€
2990€
07.08. - 15.08.2019
1990€
2190€
2790€
2990€
04.09. - 12.09.2019
1990€
2190€
2790€
2990€
02.10. - 10.10.2019
2190€
2390€
2990€
3190€
30.10. - 07.11.2019
2190€
2390€
2990€
3190€
Additional information:
You will ride the tour on one of our travel enduros (usually BMW F 700 GS, built in 2016).
The minimum number of participants for this trip is 1 person.
From / per person
1 990,00 €
Important information
Price includes
- Rental motorbike (from noon of the second day til 2 pm of the penultimate day) - English-speaking travel guide - 8 overnight stays in medium class hotels and / or casas particulares of variable comfort - Breakfast - Luggage storage for the duration of the tour - Maps for every stage - Program according to the itinerary if not defined as "optional"
Price excludes
- Fuel (full-to-full-rule): around 130 € - International flight (bookable upon request) - Airport transfers (bookable upon request) - Visa - Support vehicle during tour
Cancellation policy