2 days Western Cuba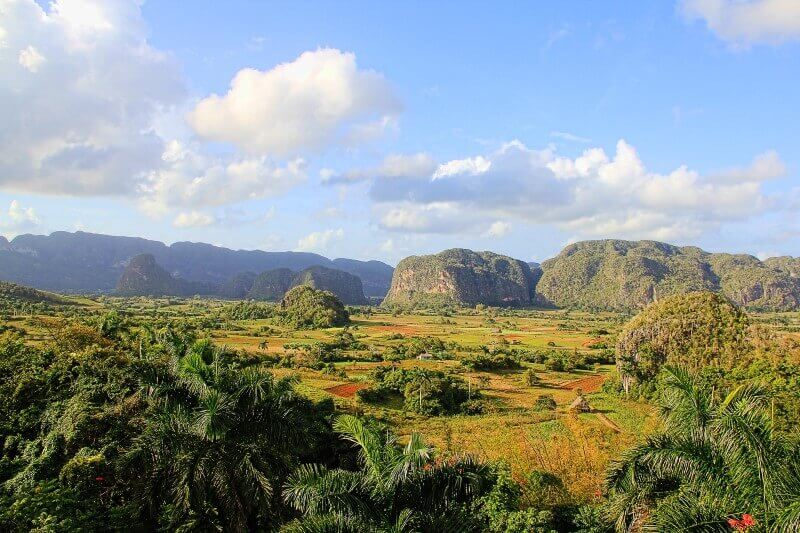 Duration: 2 Days
Scale: 1 - 10 people
From: Havana
Tour size: 10
To: Havana
Languages: English (others upon request)
Join us on a 2-days travel enduro tour through the stunning scenery of western Cuba.
2-Days Enduro Tour through Western Cuba
Day 1: From Havana to Viñales (260 km)
In the morning, we will pick up our bikes in Miramar and ride westwards. Via small streets, we will reach Las Terrazas, an ecological rural community and recreational site, and enjoy the river San Juan. Optionally, we can have lunch here as well.
Riding through the Sierra del Rosario, we are heading towards the Valley of Viñales, passing one of the few areas in Cuba with natural vegetation. This part is especially fun in terms of riding, as the road conditions get rougher. We will take a short break in San Diego de los Baños and afterwards enter the national park La Güira, reaching the Cueva de los Portales, which is a large cave that is a former commando post for Ché Guevara during the Cold War Crisis now housing a small museum.
We will ride through beautiful landscapes for another hour before finally reaching the Valley of Viñales. Before we enter the village and check-in at our casa particular, we stop at the lookout point Los Jazmines.
Day 2: Riding through tobacco fields (340 km)
We leave Viñales after breakfast towards the Cemetary of the Militiaman in La Moncada, where we will stop and then continue passing the Gran Caverna de Santo Tomás, one of the biggest cave systems in Latin America. One of Cuba's most beautiful stages awaits us after passing through the small town Sumidero.
On our way to Isabel Rubio, we will ride through picturesque valleys with only very few traffic. We continue to the Carretera Central and passing wide tabacco fields, we will reach San Juan y Martínez, where we can enjoy lunch (optional). We ride back to Miramar and return the motorbikes. Afterwards, we will be brought back to our accommodation in Central Havana by a transfer.
Additional information:
You will ride the tour on one of our travel enduros (usually BMW F 700 GS, built in 2016).
Please also get acquainted with the travel advice of the respective country well before your journey and adhere to the advice given. All tours are subject to our terms and conditions. Please also familiarize yourself with the customers' rights when booking a packaged tour before you book your trip. Before the commencement of the trip, you need to sign and hand in the disclaimer, if you do not do this, you cannot take part in the journey.
The minimum number of participants for this trip is 1 person
Important information
Price includes
- Rental motorbike - English-speaking travel guide - 1 overnight stay in a casa particulares - Breakfast - Luggage storage for the duration of the tour - Program according to the itinerary if not defined as "optional"
Price excludes
- Fuel (full-to-full-rule): around 50 € - Arrival / departure - Support vehicle during tour
Cancellation policy