Beginner-Training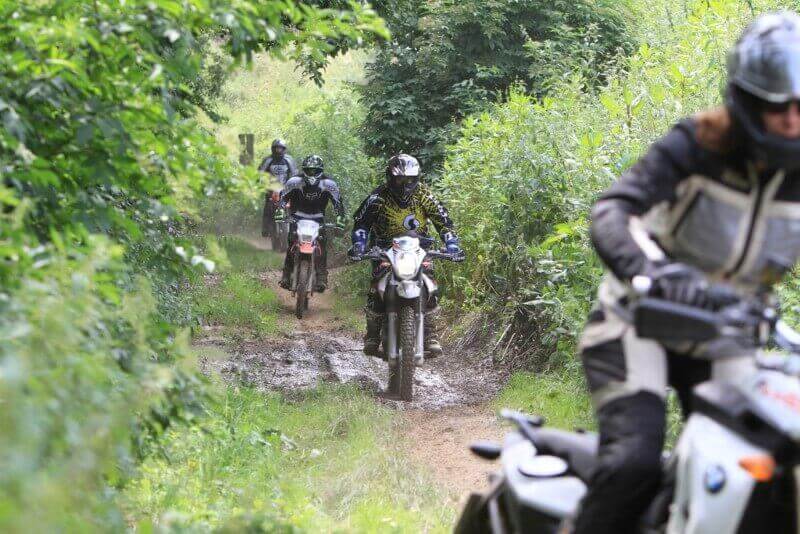 Duration: 2.00 Days
Scale: 1 - 8 people
From: Several Options
Tour size: 15
To: Several Options
Languages: German, English
The beginners training teaches you the basics of enduro riding: stand-up riding, break- and curve techniques, overcoming obstacles etc.
Enduro Beginner Training
You are interested in enduro riding, but have only been riding on the streets so far or have been off-road already, but noticed that you could improve in some areas?
In that case, our beginners training is just right for you. Here, we will show you the necessary techniques to maneuver your enduro through the uneven grounds safely.
After a short but important theoretical introduction, we will show you the important basics to stand, ride, break and ride curves in many practical excersises. The terrain is especially selected so that you can optimally improve your riding skills. We will also train riding up- and down the hill.
At the end of this weekend, you will feel much more comfortable riding on loose ground and can slowly but steadily move into more dificult terrain.
Our locations
We offer this training in the Eifel, in Hof in the Westerwald, at the Uhlenkörper Ring near Uelzen and in Warching in Bavaria. Please take care that you select your location of choice right when registering. With your registration, you will also receive tips regarding accommodation. If you do not have your own enduro yet or cannot bring it, no problem. We have got rental motorbikes that you can add to your order right away.
A beginners training is a weekend full of fun with likeminded people.
From / per person
Important information
Price includes
- Two days enduro training guided by experienced instructors - Lunch, water
Price excludes
- Motorcycle - Gasoline - Further drinks - Arrival and departure from and to the destination
Cancellation policy